State-based Government EV Incentives
There are loads of ways to charge your electric car, but charging at home is the most convenient, cheapest and best for your battery. This video has a great summary of the different ways you can charge.
Home charging
Good Cars can be charged by connecting a 'EVSE' charger with a "Type 1 Plug" (J1772) to a 10A 240v powerpoint - this is the charger we supply with all our cars. We recommend that the circuit you intend to use to charge at home regularly be tested by an electrician to ensure the cabling is in tip-top condition. These charge your car at around 12km of range per hour (12km/h) and can be left to charge overnight.
Wall charging installation in your own home
If you want to install a new power cable to your vehicle it makes sense to install a dedicated smart charger at home. They reduce any chance of electrical issues and some even come with the ability to directly divert your solar power to your car when the sun is shining! Home smart chargers will recharge your car at around 40km of range per hour (40km/h).

We recommend that if you do decide to install a home smart charger you go through Jet Charge. Their Leaf compatible home charger is called a WallBox Pulsar. It's a cool charger with good data and analytics if you want to nerd out, and it is also solar aware (meaning you can preference electricity generated from solar to charge your car). These cost around $1000 for the charger and between $500-$1,000 to be installed by an electrician.
If your planning a fleet of EV's in your driveway and want to keep the maximum amount of charging options we recomend you install a "Universal EV charger". These have a type 2 socket on the charger and each car brings its own "car to charger" cable. Jetcharge supplies a QUBEV Universal Electric Vehicle Charger for these situations.
Charging away from home
The following types of charging approaches work with Good Cars:
You can use the supplied EVSE charger in any powerpoint in a home or garage. If unsure of the powerpoint condition (ie old beach house) we suggest using the charger at a slower charge rate.

Locations fitted with a Type 1 charger that plugs directly into the Nissan Leaf. These charge at around 40km/h.

Locations with a type 2 plug using a Type 1 to type 2 adapter cable. These charge at around 40km/h.

DC fast-charger will charge the car at approx 300km/hr. It uses the second charge port installed in our cars called the CHAdeMO socket. You need a dedicated phone app to access these chargers.
As you drive your electric car you will become familiar with your local chargers and their location. If you need to plan a trip and see if the charger is compatible with your car, a searchable database of all available chargers is available via PlugShare. You can also map our trips and what chargers you will need with the Better Route Planner website
Home solar (PV) with your EV
You can charge your electric car for free with 100% renewable energy through the installation of solar PV on your home or garage. Watch the second video for more information.
How far you drive most days and your driving style are the most important aspects of deciding which electric car is right for you in terms of battery capacity and range.

Our cars start at a minimum of 100km of range in the Nissan Leaf AZEO 24kWh and go all the way up to 350km for the top of the range ZE1 62kWh model. The average Australian commutes around 40km per day. If you have a standard daily commute, you may find that our 100km range Nissan Leaf is well suited to your lifestyle.You can also top up your battery throughout the day at home or at work. The increased availability of commercial charging infrastructure is opening up an even larger range of travel options for electric car owners.

The single biggest factor affecting range is individual driving style. Fast driving and rapid acceleration will decrease your battery capacity quickly, the same as burning fuel in a petrol car. If you need to get the most of your charge we suggest using the eco mode and driving conservatively. You can see how you're driving by the tree symbol to the top left of the headset display - the more branches on display the more efficient your driving.

The type of roads and the conditions you are driving on will also impact your range, however you can increase your range over hilly terrain by turning on the regenerative braking or "B" mode function that comes standard in all Nissan EVs.

To find out more about EV battery capacity and range - check out our video on the right side.
Electric Vehicles are a lot easier and more cost effective to maintain than a conventional vehicle. With fewer moving parts, an electric motor has far less things that can go wrong than an internal combustion engine. Our cars run on 100% electricity so they emit no exhaust from a tailpipe and do not contain the typical liquid fuel components of a petrol car, such as a fuel pump, fuel line, or fuel tank. No cambelts, fan belts, spark plugs or oil changes are needed, and you'll never need to worry about starter motor or engine trouble out on the road.

We still recommend you have a qualified mechanic look over your car once a year or every 20,000km whichever comes first. Typical maintenance costs per year are around $200. Watch Hepburn Shire EV mechanic Albert run through a typical electric car service online here.
The battery charge level of all Nissan Leaf's is visible on the central display. The maximum charge remaining will depend on the health of your particular battery.

Nissan Leaf electric batteries lose capacity slowly overtime at an average of 3-4% a year.

We make sure to independently check the battery capacity of your EV before purchase using the Nissan LeafSpy app. We also make sure we only purchase cars with the best battery quality. All our batteries are guaranteed at least 75% capacity for affordable models and up to 95% capacity for our top range Nissan Leaf ZE1s. This battery capacity is converted into an estimated driving range under different conditions at that point in time.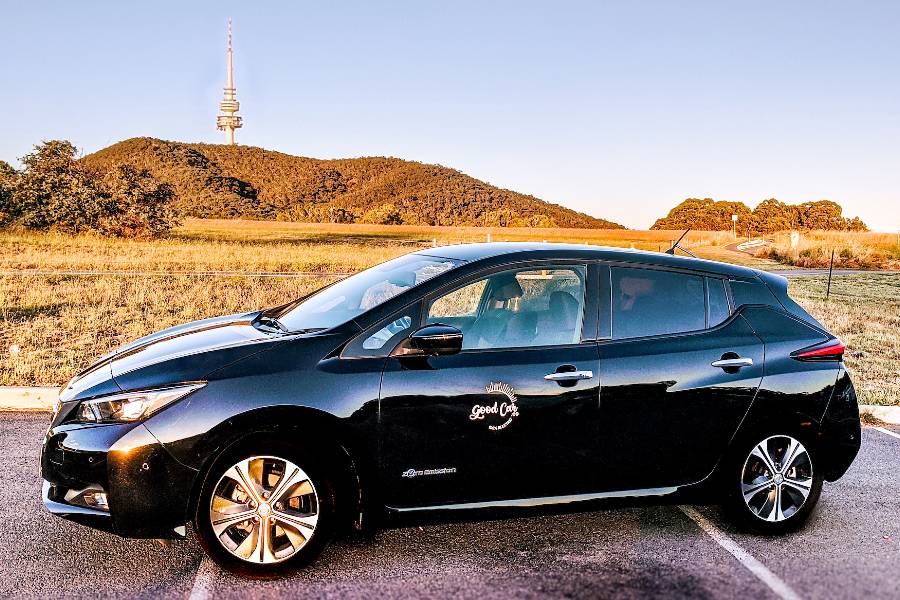 Woohoo. Many Australian states are coming on board with Incentives to assist EV ownership. But there is a catch. Every state's incentives are different and they apply differently to new and used cars. Read on to see what discounts apply to your EV purchase.
Tasmania – From July 1 2021, stamp duty is waived for all new and used electric vehicles. Tasmania also provides rebates for electric vehicles being set up as car shares and for tourism operators
Australian Capital Territory – Brand new (not used) electric vehicles are eligible for a full stamp duty exemption. As of 24th May 2021, new or used electric vehicles are eligible for two years of free registration (registration fee component only; other charges apply).
New South Wales – From 1 September 2021, the NSW Government has proposed to waive stamp duty for new and used battery electric vehicles under $78,000 (incl GST).
Victoria – Electric vehicles are exempt from the "luxury vehicle" rate of stamp duty, paying a flat rate of $8.40 per $200 of market value, rather than up to $18 for polluting vehicles. All electric vehicles also receive a $100 annual discount on vehicle registration. Victoria also has a per km "EV tax" as well, for most drivers this will be less than $300 PA
Queensland - Electric and hybrid vehicles pay reduced stamp duty: $2 per $100 up to $100,000, and $4 per $100 value thereafter (compared to up to $6 per $100 for more polluting vehicles).